Whether you're remodeling your kitchen or starting from the ground up, your kitchen is a very important room in your home. Depending on your lifestyle and budget, you want to choose materials that will last a long time. If you feel overwhelmed having to make design decisions for your kitchen, we can help. Here we discuss the ins and outs of choosing cabinets and countertops that will best fit the needs of you and your family. Our goal is to help you enjoy your kitchen for years to come.
Cabinets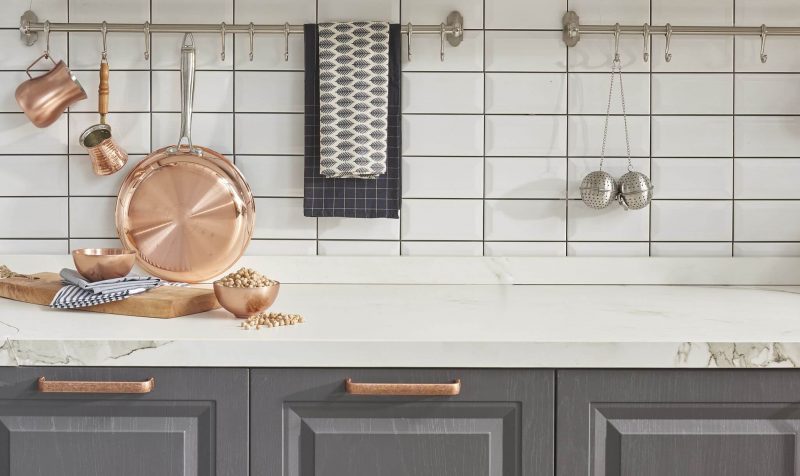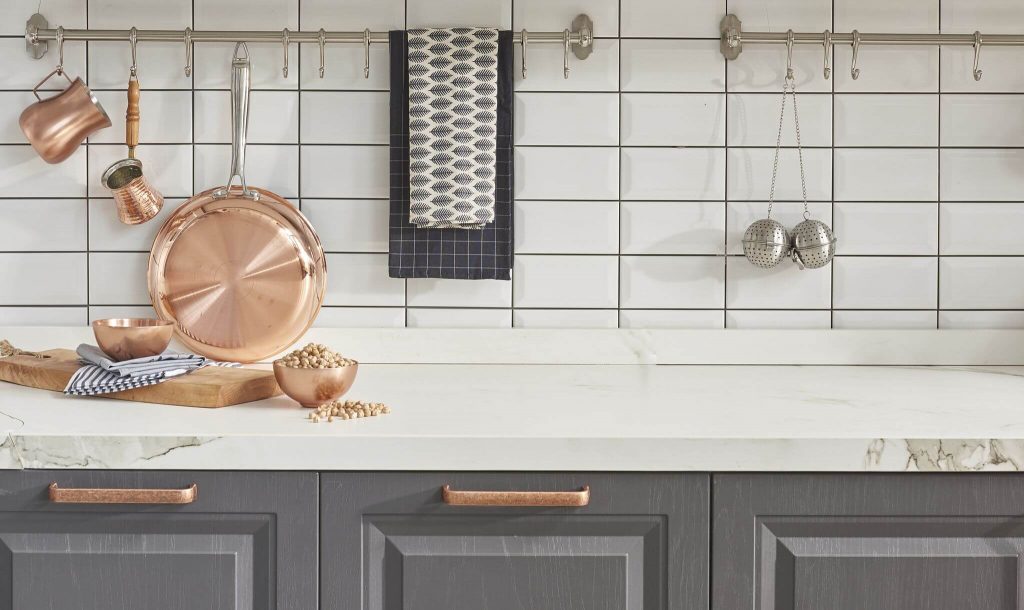 When choosing cabinets for your kitchen the first thing you need to decide between are framed or frameless cabinets. Here we break down everything there is to know about kitchen cabinets.
Framed Cabinets are typically for those seeking a traditional style in their kitchen.The frame on the front of the cabinet is where the door hinges are placed. In this style of cabinet, you often see the frame.
Frameless Cabinets are a good choice for those looking for a more modern and contemporary look. These cabinets hinge on the inside, making the hinges virtually invisible. Without a frame, they also allow easier access and more space inside the cabinet.
Once you choose between frame or frameless, you need to decide if you want to use stock cabinets or a customized option.
Stock Cabinets are pre-fabricated options and are definitely the most cost effective solution. However, those that decide to go with this option need to be on the lookout for quality and be aware that the sizes offered are limited.
Custom Cabinets are the most expensive option but allow you to fully customize your cabinets exactly how you want them.
Semi-Custom Cabinets are the middle ground in terms of value and customization. These kinds of cabinets typically come in a certain style but you can choose from different sizes or finishes.
Other Considerations
When selecting cabinets, it's also important to take other elements into consideration to ensure you're choosing quality cabinets. You'll want hinges built to last that are both adjustable and strong. You will also want floating panels for your cabinets, which means they aren't glued. This prevents panels from becoming damaged due to contraction and expansion during temperature and moisture changes. If you're unsure if they are floating, ask a professional that can help. Door slides are another important element of cabinets. Side-mounted slides are stronger and more durable when compared to a single bottom-mounted slide.
One of our favorite companies for cabinet hardware here at ScottWay Construction, is Blum Hardware.
Wood Selection
Selecting wood ultimately comes down to aesthetics, functionality, and budget. It's best to choose a wood variety with a design that fits your aesthetic. These are some of the most popular wood choices for kitchen cabinets:
Maple is a versatile wood that suits both traditional and modern aesthetics.
Cherry is a good choice as it tends to mix well with other wood finishes within the space.
Oak is incredibly strong ensuring it will last a long time. It's also very versatile as it works well with stains and finishes to get the desired look you want.
Pine is a great option for a rugged lived-in look.
While these are some of the most popular wood choices, there are other materials to consider when designing your kitchen such as Laminate and Thermofoil. These options are a cost-effective alternative to wood and are often used in more modern designs.
Countertops
When choosing countertops for your kitchen, it really comes down to your lifestyle, budget, style, and the amount of maintenance you're willing to put in to preserve your investment. Some countertop materials are more durable. These are good choices for frequently used and high traffic kitchens. Below we will go over all the popular countertop materials to help you choose the best option for your space.
Granite
This natural stone option has been a top choice for kitchen countertops for a very long time. It's usually on the more expensive side, but it's a durable option that looks gorgeous in any kitchen. Granite also requires sealing and maintenance to keep it looking its best. Tip: If you have your heart set on granite but are on a budget, look for locally sourced or lower grade options.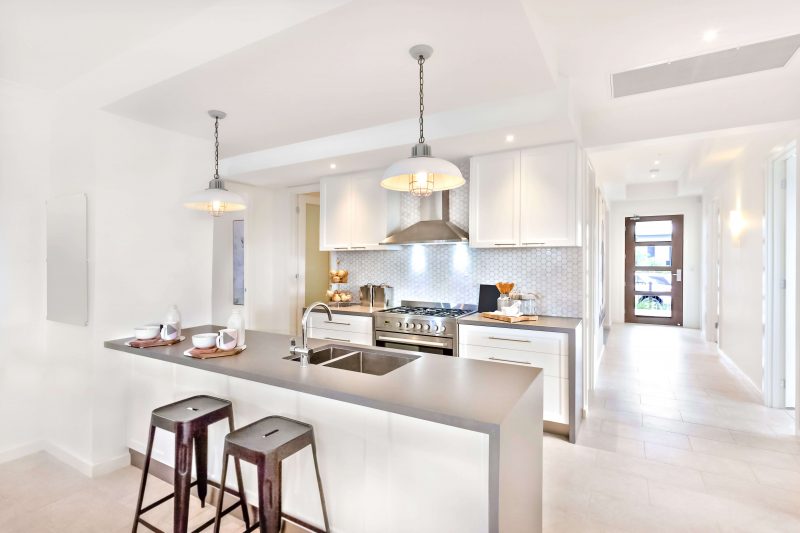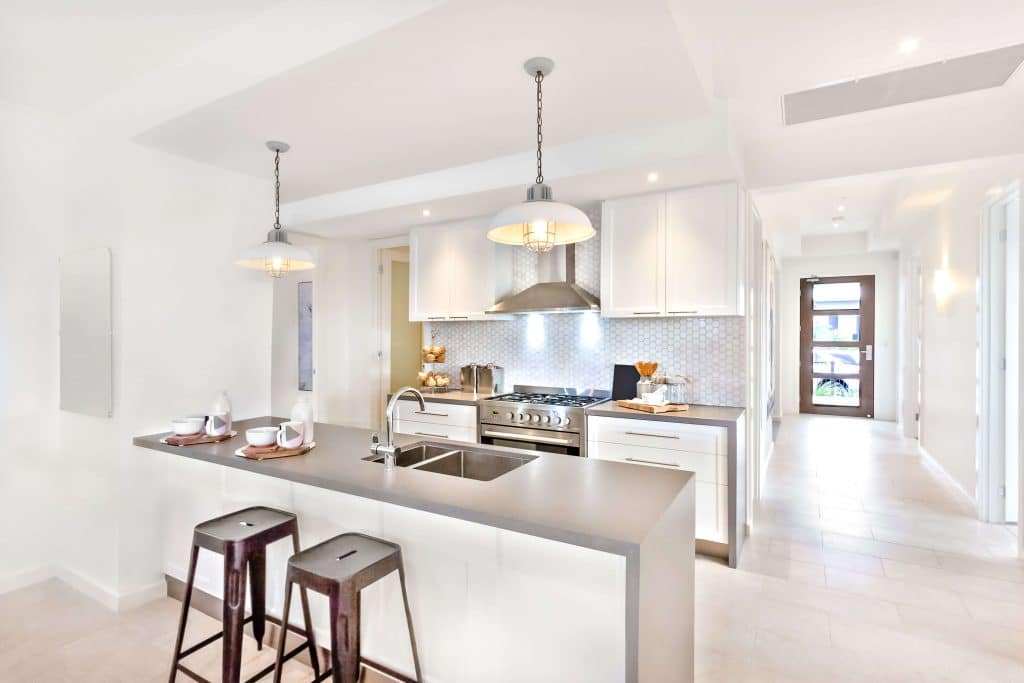 Marble
Marble is a stunning natural stone option for countertops. However, it's incredibly porous, and can stain and etch quite easily. It's also very expensive. Regular sealing is required to keep it looking its best.
Quartz
Quartz is a great alternative for those seeking a similar look to marble or granite. Quartz is resistant to heat, acids, and scratches. It's a synthetic countertop made with resins and quartzite. The design choices are endless! The great thing about quartz countertops is they require zero maintenance.
Butcher Block
Wood countertops can be a beautiful option for a rustic feel that come in a wide variety of finishes to match your aesthetics. They are however more prone to bacteria, water stains, and scratches. If properly cared for they can last a long time.
Laminate
Laminate is a great option for those on a budget, however it doesn't stand up to heat and tends to scratch easily. This material is probably best suited for singles or couples who don't spend a lot of time in the kitchen.
Solid Surface
Made of acrylic and resins, solid surface materials are a great option for mid-tier kitchens. They're resistant to staining and come in a variety of colors. However, they can become damaged from hot pots and pans.
Stainless Steel
If you like the industrial look, stainless steel may be a material to consider. It's easy to clean and resistant to heat, but it can be easily scratched.
Ceramic Tile
Ceramic tiles are durable, affordable, and simple to clean. They are great for those DIYers. It may not have the same luxurious look as granite or marble, but ceramic tiles offer endless design options to make your countertops unique.